Alia Bhatt has been loved by everyone from the time we saw her at SOTY. Whether it's the way she talks, her innocence or her fashion, we have been hooked to her. Yes, she's had her share of ups and down and shown us that she is also a normal girl like us. So why not on her 25th birthday, let us get down to her fashion evolution, her ups and downs and some major trends that we fell in love with.
2012
How can we ever forget the cute girl vibe she bought with her self. Her looks were so fresh and relatable. She bought the looks perfect for any college going girl and she became instantly popular with the youth. Her looks were not less than a pampered daddy's girl and we all just wanted to be her, didn't we?
2013
With the hit of SOTY, we saw her modeling for a few of the designers. While some of the looks were a miss, whereas some of them were very effortless. She showed her us how to make a style statement even with the simplest of the outfits.
2014

How can we forget this year, Alia Bhatt entertained us with quite a few blockbusters. And the looks in all of them were to die for. She completely owned the Punjabi chick look. I was all obsessed with patialas and juttis that year. Not to miss the mirror work and jacket over the kurta looks. I mean isn't it just cute or is it just Alia?  
Waiting for the 2 states look? Yes, the beautiful Tamilian girl. The silk saree with a twist of bright yellow and blue colors made all our moms obsessed with this one. Her looks in the movie gave some of us girls major inspiration for our farewell outfits. A silk saree never looked this pretty. Who knew they would become a style statement, thanks to Alia Bhatt!
2015
This was not quite Alia Bhatt's year. With the flop of Shaandaar, her looks were also quite a miss this year. But in that chaos, she gave us some pretty fresh looks as well. I loved the gown she wore for the Guild Awards 2015. What with the winged eyes and poker straight hair, she looked quite pretty and managed to end the year with a fashion bang.
2016
This year, Alia Bhatt became a huge hit with all her hairstyles and what not. I mean, she has been a fashion icon and she has made that quite clear over the years. But this year, Alia Bhatt was the major hairstyle icon. The variation she did with her hair! From the simplest fall braids to this cute heart braid! I heart them all!
2017
Sequins have long been out of trend, but Alia is Alia! Filmfare 2017 saw her in a beautiful sequins gown, which just looked out of this world. Alia Bhatt really is a trendsetter., no doubt in that. The simplest of the hairstyle and make up had all our attention towards this gorgeous gown. And don't you miss the plunging neckline and the beauty of it? I am obsessed!
2018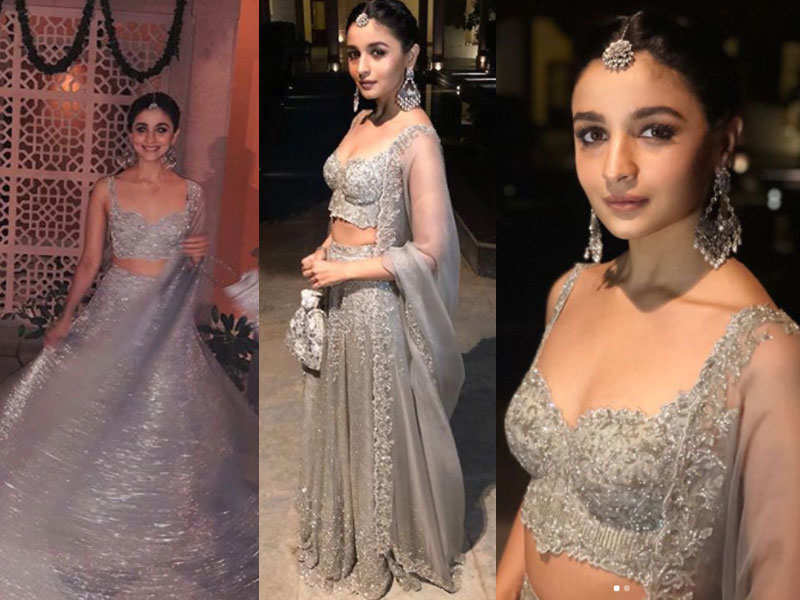 The year might just have begun, but Alia stole our hearts with being the prettiest bridesmaid anyone could ask for. She wore this gorgeous silver lehenga at her best friends wedding, with the perfect jewelry and the makeup! Wedding looks inspiration, anyone? Take your cue!
Alia Bhatt is here to stay, no matter who comes and goes. She has managed to make a place in our hearts and in the industry, not just with her style but with her acting skills as well. We wish her the happiest of the birthday and all the love from our end.
Love Alia Bhat? Here are some Outfit Goals by her you got to check out.